Retaining Walls
Some properties in the Metro Detroit area have graded and sloped land. Though this provides scope for some interesting landscaping, it is important to understand that there are some distinct downsides to this as well. If there is a hill or slope on your property, and you have to carve a driveway or walkways and paths into the landscaping, it leaves a large portion of the slope exposed.


When Erosion Occurs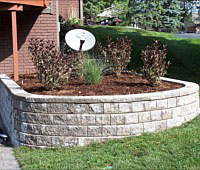 Over time, the pressure forces the mud and stones to slide and the erosion can do a lot of damage to your property. At times, it can also cause irreversible damage to the structural elements on your property. This makes it very important for you to get retaining walls installed on graded and sloped areas of land.

Integrity Landscape, LLC has been providing the best landscaping and allied services to residential and commercial customers across the region. We have the knowhow, experience and resources to design and install perfectly-engineered retaining walls as required.


Adding Stability
We will first survey the property and identify which areas will need retaining walls. Some areas can be made more functional with the addition of these walls. Though it is possible to level the ground, this becomes a very expensive and time consuming option. It's much better to build the walls at strategic points on your property. This provides the necessary support and stability to the landscape.

There are a number of different types of retaining walls. The ones that we will use in the landscaping will be based on the area it has to be installed in and the function it will be serving.


Retaining Walls Benefits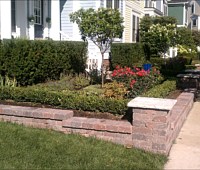 Value Addition - These walls add a lot of value to your property. They make the land more stable and help in demarcating spaces for driveways, pathways , walkways and planter spots


Long Lasting - When we design and install retaining walls on your property, we ensure that the best materials are used in the installation. This makes these features strong and last-lasting


Functionality - The precisely-engineered walls we build can withstand very significant loads and are the ideal solution for soil erosion and add stability to the landscaping


Low Maintenance - Once we have built the walls, you do not have to worry about carrying out any major maintenance work. They will only have to be power washed from time to time if desired.


If you think you need retaining walls on your property or have graded land and are not sure whether you need them, simply call Integrity Landscape, LLC on 734-453-6773 or contact us via this form.


See our fine collection of segmental block retaining walls.


We Provide Services to the Following Cities and Towns in MI: